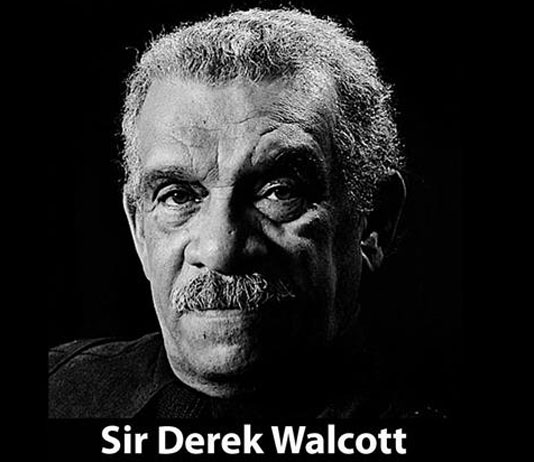 Saint Lucian poet, playwright, and Nobel Laureate, Sir Derek Walcott, has passed.
An announcement from the Office of the Governor General noted his passing. "Her Excellency Dame Pearlette Louisy and Chairman of the Nobel Laureate Committee regrets to announce the death of Sir Derek Alton Walcott, SLC, OBE, OCC, Saint Lucia's second Nobel Laureate. Sir Derek Walcott died peacefully at his house in Cap Estate this morning, March 17." Sir Derek was 87 years old.
Prime Minister Allen Chastanet, during a brief address, offered condolences to the family of Sir Derek.
"When everyone speaks of excellence, the two names that stand tall in Saint Lucia's history are Sir Arthur Lewis, and Sir Derek Walcott. As such, today is a historical day, as it marks the passing of Sir Derek," he said. "His, is a household name, as he made himself so available and participated in many national and local events in Saint Lucia. It has become customary for all of us to see Sir Derek, and to know that he was here all the time. There is one thing that Derek truly was—a Caribbean patron. He was always very consistent about being Caribbean, and being original."
"His passing is unfortunate, and I know that it is very difficult for his family. My deepest sympathies go out to them and to all the people who have collaborated with Sir Derek over the years. This is a great loss to us in Saint Lucia, and clearly a great loss to the world, but we can still reflect on his incredible achievements. He has made all Saint Lucians and Caribbean people very proud."
He continued: "In recognition of the statesman that he was, the Government of Saint Lucia will fly the flags at half-mast until Tuesday. I am in discussions with his family and the Saint Lucian artistic fraternity to discuss what tributes we can pay to this icon of a man.
"It is with a heavy heart that we express our deepest sympathies for the family's loss, and our appreciation at the same time, to the Walcott family."
Sir Derek received the Nobel Prize for Literature in 1992. On Feb. 28, 2016, was invested with the Knight Commander of Saint Lucia (KCSL).