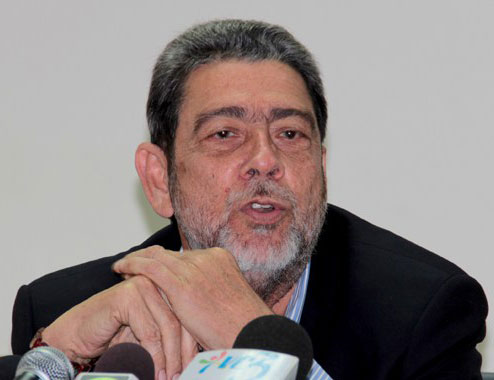 Prime Minister Gonsalves Makes Special Announcements On Independence Day.
One hundred and ten temporary clerks employed with the government of St.Vincent and the Grenadines will be employed with permanent status as of 1st January 2017.
This announcement was among many made by Prime Minister and Minister of Finance, Dr. Ralph Gonsalves, while delivering his independence message to a packed crowd at the Military Parade held at the Victoria Park on 27th October.
Dr. Gonsalves said that in so doing, the temporary clerks will now have job security and benefits as Public Servants.
Six hundred and twenty-nine students who received the requisite standard at the CAPE/CSEC external examinations, will shortly receive a cash grant of $500.00 each; as well as students who were also successful in the Associate's Degree programme at the required level at the Community College.
On the basis of the 2016 CAPE Examinations, Government has awarded 16 scholarships, exhibitions and bursaries, for university level study. Eight of these are national scholarships fully funded for five years of study, five are national exhibitions, fully funded for three years of study, and three are bursaries, valued at sixty thousand Eastern Caribbean dollars each for three-year university programmes.
"These awards cost in excess of five million dollars in the aggregate," he stated. In addition, for the 2017/2018 academic year, Government will grant tuition scholarships to deserving applicants for university study, and it will continue to finance the economic cost for all eligible students at the University of the West Indies (UWI).
The state-owned student loan company will also continue to grant, annually, economically disadvantaged student loans amounting to in excess of four million dollars to eligible and deserving applicants.
These, according to the Prime Minister, combined with other university scholarships negotiated with friendly overseas governments and supportive institutions, continue to place this country on track to have one university graduate per household on average by the year 2030.
An announcement will also be made soon by the relevant government authorities of the more than 100 successful applicants for the coveted places for the new academic year in the Registered Nursing and Nursing Assistant programmes. Students enrolled in these programmes will continue to receive a monthly stipend of Eastern Caribbean one thousand dollars.
All of these initiatives, Dr. Gonsalves said, would continue to be honoured despite the economic challenges confronted by the state.
Following a review by the competent authorities, the Governor General would be advised to order the release of some young men and women who are serving terms of imprisonment for relatively minor offences.  The Prime Minister said that he considered in all of the circumstances that these young people ought to be given a second chance.
"This is the internally proclaimed 'Year of Mercy' by people of faith, and we ought to exercise it appropriately to these young persons and others," he said.
The annual duty free concession for Christmas barrels will commence on 14th November and end on 31st December of this year.
He also mentioned that additional persons would be recruited for the Police Force, Fire Station and the Coast Guard.
In recognition of those citizens at home and abroad who have made sterling contributions in the field of sports, culture, education, health, public service business and community service, special recognition will be given to them. An announcement will be made early 2017 of the naming of various facilities in honour of "our distinguished" citizens particularly those who have gone to the great beyond.
A few more additional sporting and cultural ambassadors will also be announced soon.
Instructions have been given to the Director General of Finance and Planning to transfer an initial U. S. fifty thousand dollars to assist the Haitian government in its relief efforts, consequent upon the recent devastation caused by Hurricane Matthew, which made landfall in that country as a category 4 hurricane in early October.