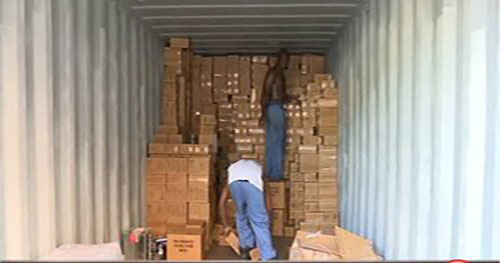 As promised by the Honourable Prime Minister, Dr. Roosevelt Skerrit, at a press conference last week, a 20ft container is currently being loaded for shipment to Haiti.
Following the impact on Haiti and the Bahamas by Hurricane Matthew, the Dominica leader launched an appeal to the private sector to fuel support for the donation of relief items for the severely affected people of Haiti.
GIS news spoke with National Disaster Coordinator, Cecil Shillingford, at the Woodbridge Bay port while the Office of Disaster Management along with representatives from the Red Cross loaded a 20 feet container scheduled to leave Dominica this week.
"It is directed particularly to Les Cayes which was a hard hit area in the southern part of Haiti. Another container will be stuffed in the coming week for the Bahamas. That will either go to Grand Bahama or Andros which were the two worst hit communities in the Bahamas."
Shillingford expressed that the Office of Disaster Management is impressed with the outpouring of support from the private sector following the appeal.
"They have come out and they provided a lot of the things that we require. They are still providing stuff which will go into the second 20ft container. Some of the items are sugar, flour, rice, biscuits, a lot of water and blankets going out to Haiti. That [the blankets] we will not send to the Bahamas…"
The container will leave on Monday, 24th October and should arrive in Haiti in a week or two.
Meanwhile individuals or organizations desirous of making contributions are advised to contact the Office of Disaster Management at 448-7777 or email odm@dominica.gov.dm. They can also contact the Dominica Red Cross at 448-8280.