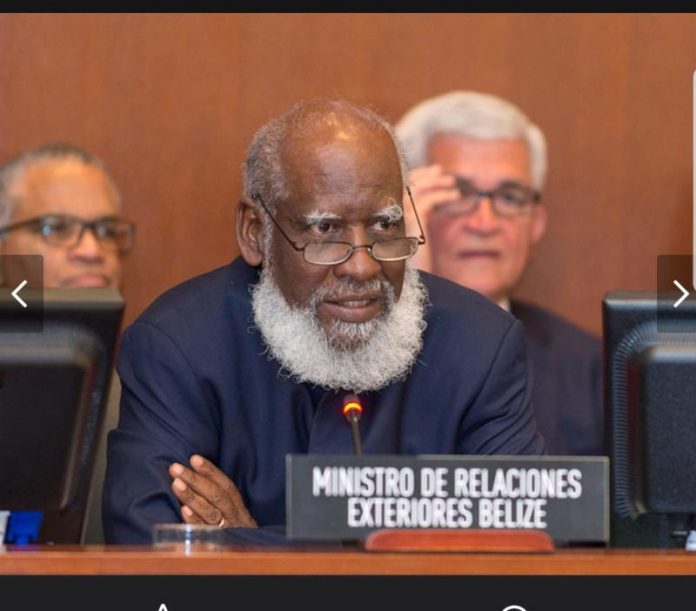 A delegation from Belize headed by Foreign Minister Wilfred Elrington met with their counterparts from Guatemala headed by Guatemala's Foreign Minister Sandra Jovel in Washington DC on Wednesday January 31st. Both Ministers as well as Secretary General of the OAS, Luis Almagro were present at the Permanent Council of the OAS, which discussed the progress of the Belize Guatemala differendum process.
During the meeting, representatives from the United States, Canada, Mexico, the Caribbean Community Caricom, El Salvador, Costa Rica, Honduras, Colombia, Brazil, Uruguay, Peru, Bolivia, and Ecuador, emphasized their support for the peaceful resolution of the Belize Guatemala differendum, which they agreed can be solved through the legal platform at the International Court of Justice.
Through the OAS, the international community and observers from the European Union, Japan, The United Kingdom and others expressed their support of Belize and Guatemala taking the case to the International Court of justice. A meeting was also held with the Group of Friends who provide financial support to the Office of the OAS in the Adjacency Zone.
While in Washington the Belize delegation had a very positive meeting with high ranking officials at the United States Department of State to discuss the Belize Guatemala boarder situation and the need for stability in the region.
Belize's delegation was headed by Foreign Minister the Honorable Wilfred Elrington and included Chief Executive Officer in the Ministry of Foreign Affairs His Excellency Patrick Andrews, Senator Eamon Courtney from the Opposition People's United Party, Belize's Senior Ambassador to Guatemala His Excellency Alexis Rosado, and Director of International Affairs Ms. Ayesha Borland. The delegation also included members of the Washington DC based Embassy of Belize including Ambassador to the United States and Permanent Representative to the Organization of American States His Excellency F. Daniel Gutierez and Minister Counsellor Emil Waight.
Best regards
Arlette Gomez
First Secretary
Diaspora Desk
Embassy of Belize
Washington, DC