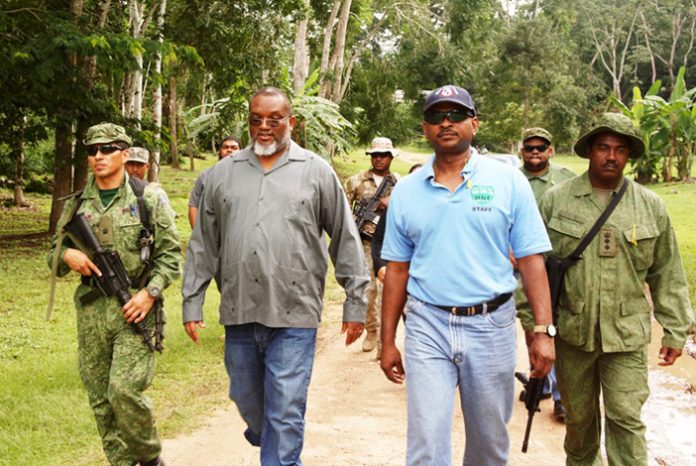 Minister of Defence Hon John Saldivar has just completed a tour of BDF installations in the West, which is part of a countrywide tour.
Yesterday, November 17, 2016, Hon Saldivar was joined by CEO in the Ministry of Defence and former Commander of the BDF Volunteer Battalion Lieutenant Colonel Felix Enriquez (Ret.), and he was again accompanied by BDF Deputy Commander Colonel Steven Ortega and personnel from the Ministry of Defence.
On day two of his tour in the west, the Minister and his team took off from Camp Belizario in a BDF helicopter, flew to the Guacamayo area, and visited the Caracol Archeological Site, which has an observation post manned by the BDF. They then flew to another post at Valentin Camp. Their next stop was a similar post at Ceibo Chico, and finally they stopped at Rio Blanco, less than a mile from the Belize-Guatemala Border. The minister and his team spent the overnight there with the BDF soldiers who man the post. Hon John Saldivar was enthusiastically welcomed by our soldiers who he thanked for their tremendous bravery and sacrifice for the security of the nation.  
The Minister of Defence returned to Belmopan today shortly before noon. The western leg of his national tour started yesterday with a tour of Camp Belizario, a fly-over by BDF plane of observation posts at Xunantunich, Arenal and El Pilar, as well as an on-the-ground tour of those installations which are also located near the Belize-Guatemala Border. The next leg of Hon Saldivar's nationwide tour, in the next two weeks, will take him to BDF installations in the southern part of the country.
The purpose of the Defence Minister's nationwide tour is to assess the state of readiness and the level of efficiency of the BDF in executing its various functions, and to determine what is needed to better equip the force to fulfill those functions.