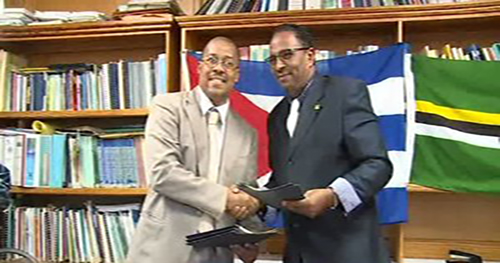 Dominica and the Republic of Cuba signed a contract for the renewal of the cooperation agreement between the Ministry of Public Health of the Republic of Cuba and the Ministry of Health and Environment of Dominica on Friday, October 21st.
During the ceremony the Hon Health, Dr. Kenneth Darroux, highlighted the history between Cuba and Dominica.
"The Government and the People of Dominica have enjoyed an extremely close relation with the Republic of Cuba for a very long time. This is cemented by the signing of diplomatic relations in 1998. We have benefited and is benefitting from the Cuban Technical Cooperation Programme in the area of health as far back as 1989. We are talking about a decade before we officially signed diplomatic relations we were benefiting from the Cuban Technical Cooperation. This is a cooperation which have helped and continues to transform the health care services here on island. This technical cooperation is among the largest contributor to the health sector during the last three decades."
The Hon Minister who signed the agreement on behalf of the Ministry of Health and the Environment believes that this agreement will further strengthen the island's health sector.
"I am convinced that the technical and professional assistance from the Republic of Cuba will grow from strength to strength…this new agreement will focus on the formation of national human resources, health care, advice on the implementation of health programmes, promotion of health care in the population and repairs and maintenance of medical equipment. His Excellency, I want to thank you personally for your personal involvement in ensuring that this agreement is ready to be signed…"
H.E Juan Carlos Frometa signed on behalf of the Ministry of Public Health of Cuba.
"For a number of years we have been helping Dominican people. For a number of years we have a Cuban medical team working here. We have Cuban doctors and nurses in Roseau, Portsmouth and Marigot. This agreement shows that the Cuban Government will continue to help Dominica. We are friends, we are sister islands, and we are from the same region," His Excellency Carlos Frometa stated.