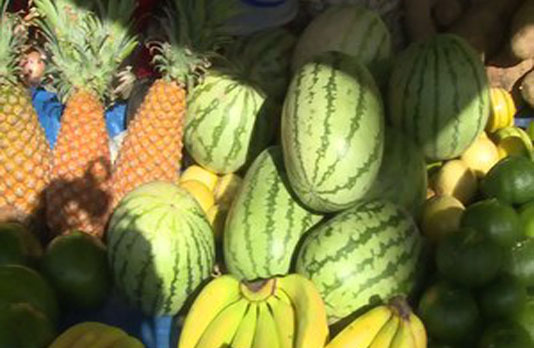 Farmers and vendors were awarded for their hard work and fresh produce being displayed at this year's Market Day with a Difference.
On Saturday, October 22nd, participants from the town of Portsmouth and the community of Marigot decorated their stalls and dressed in creole wear to mark the event.
Market Day with a Difference is held every year as part of the independence activities.
It is a day to recognize the hard work of those engaged in food production in Dominica.
At the Portsmouth market, the Hon Minister for Information, Science, Telecommunications and Technology, Kelver Darroux represented Hon Prime Minister, Roosevelt Skerrit.
Hon Darroux stated that Government will continue to ensure that all farm access roads are rehabilitated.
He believes this will help farmers to better access their farms.
"If there is no access to the farms how can the farmers get their produce so that the vendors can be here selling the produce today? That is important. We will continue to ensure that all farm access roads across the country are rehabilitated. This is to ensure that the farmers can have proper access to their farms. So that at the end of the day they are able to bring the produce from their farms to the market and we can purchase the produce."
The Hon Member of Parliament for the Portsmouth Constituency, Ian Douglas, stated that everyone has a responsibility to nation building. He called on his constituents to play their part.
The Hon Minister for Agriculture, Johnson Drigo, reaffirmed Government's commitment to agriculture and the needs of farmers.
"The Government will do everything in its power to assist you. I am so excited about one of the commitment we have made in this year's budget. This is half a million dollars to assist the boat owners. Portsmouth is one of the major ports exporting our produce. I have seen the list of a number of boat owners who are working with the Ministry of Trade to access this funds so they could do the adjustment to their boats. They will then be able to enter the European Markets so we can get more of our products out of Dominica."
Meanwhile local produce and crafts were on display at the Marigot Fisheries Complex.
The Hon Minister for Commerce, Enterprise and Small Business Development, Roslyn Paul, spoke on behalf of the Hon Prime Minister, Roosevelt Skerrit.
Hon Paul noted that the Marigot Constituency is not being left out and millions will be invested on the Cayeme Bock, Melville Hall farm access road.
"The contract has been signed and millions of dollars will be invested shortly in ensuring that this farm access road is rehabilitated. The contract has already been signed. This will benefit the farmers of Marigot. When there are articulations that nothing is being done for Marigot we need to call a spade a spade and say when it is wrong and say when it is right. Also say when it is happening."
Awards were presented for best dressed buyer, best dressed farmer and vendor, most impressive vendor, best presented decorated stall, biggest fruit, and most impressive butcher among others.