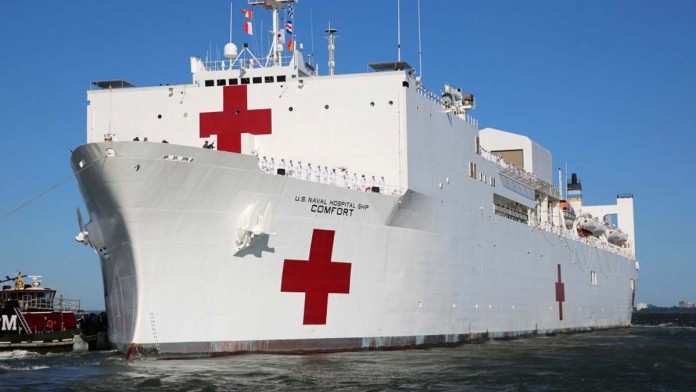 The U.S. Navy hospital ship USNS Comfort (T-AH 20) will offer free medical services in St. Lucia from September 25-30. Details on where the ship will berth have not been finalized.The Ministry of Health will provide the public with details as soon as they are available.
Surgery candidates will be selected by the respective country's Ministry of Health. Onboard surgeries will fall under the categories of Ophthalmology, General Surgery, Orthopedic Surgery, Oral Maxillo-facial Surgery, Plastic Surgery, Wound Care and Urology. Surgery candidates will be drawn primarily from existing waiting lists within the public health system. Candidates with the optimal clinical background and those who have been on the waiting list for the longest time frame will be prioritized.
The categories of services offered at the medical walk-in sites are Adult Medical Services, Pediatric Medical Services, Dental, Optometry, Physical Therapy and Dermatology.
The walk-in sites will operate from approximately 8 a.m. to 5 p.m. each day on a first come, first served basis. In order to see as many patients as possible, each person will be seen by only one provider, unless that provider deems additional services are needed for the identified condition and are available at the site.
You do not need a doctor's referral or need permission from your doctor or any other person to seek free medical services on the ship. If you have any medical records it would be advisable to bring them along with you.
ANYONE needing medical attention is free to visit the ship during the stipulated dates and times. Five hundred (500) persons are expected to be seen each day.
The USNS Hospital Ship Comfort will arrive from Grenada where it will have provided services September 15-20 and will depart St. Lucia for St. Kitts where it will provide services from October 5-10.
ALL MEDICAL CARE ON THE SHIP IS FREE!!
This is YOUR health. Do not allow anyone with their ulterior motives to dissuade you from seeking medical care. Your health is YOURS and only you feel it. Do not fall prey to fake news and conspiracy theorists. If you need medical help go take care of yourself!