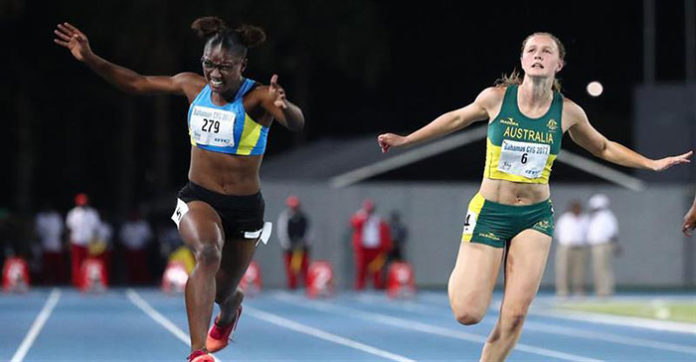 The Saint Lucia 2017 Junior Sportswoman of the year triumphs at The Commonwealth Youth Games.
The Government of Saint Lucia has congratulated 15-year-old Julien Alfred who has won the island's first gold medal and first track medal at the Commonwealth Youth Games in The Bahamas.
Julien was victorious in the girl's under-18 100 metre dash and crossed the finish line in 11.56 seconds, where she triumphed over Australian Louise Riley, who took the silver medal, and Canada's Deondra Green, who took the bronze.
Speaking about the accomplishment, acting Prime Minister and Minister for Equity, Social Justice and Empowerment, Hon Lenard Montoute, said that this is a time of immense pride for all Saint Lucians and called on citizens to rally around the entire team.
"Julien, at 15, has made history and we celebrate with her in this achievement," stated the acting prime minister. "On behalf of the government, I wish to congratulate Ms Alfred on this great success and triumph and to say collectively that we are so proud of her. She is a superb athlete and is testimony of what we can achieve in sports."
In 2015, Julien Alfred received the Saint Lucia Junior Sportswoman of the Year Award.
"I take the opportunity to call on Saint Lucians to rally around our entire team at the Commonwealth Youth Games and all our athletes around the world, including our coaches, who make sacrifices and work so hard to represent us at this level," said Minister Montoute.
Saint Lucia currently has a team of 23 competing in different disciplines at the Commonwealth Games in Nassau, Bahamas from July 18 – 23.
Julien won the 100 metre dash on Thursday, July 20.