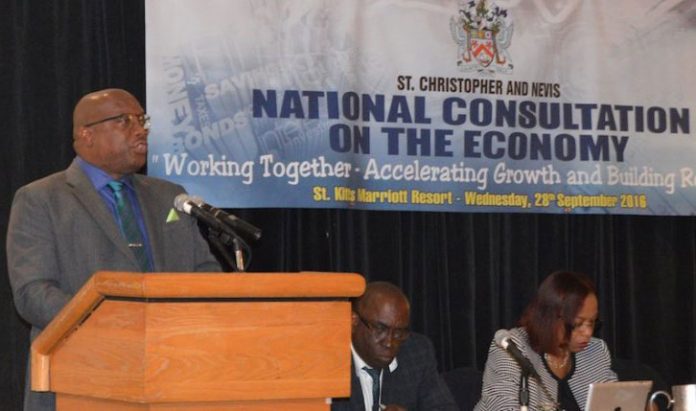 Growing economic prosperity in St. Kitts and Nevis fuels wholesale and retail sector growth and construction projects.
Growing economic prosperity in St. Kitts and Nevis – as seen through job gains, rising incomes and a solid rebound in consumer spending – is driving sales in the wholesale and retail sector, which grew by 9.13 percent in 2015 compared to 0.35 percent in 2014 and 5.91 percent in 2013.
The Financial Secretary in the Government of St. Kitts and Nevis, Mrs. Hilary Hazel, presented these figures last week at the 2016 National Consultation on the Economy.
Mrs. Hazel's presentation showed that, just four years prior in 2012, the wholesale and retail sector had shrunk by a whopping 10.85 percent.
Case in point: Mr. W. Anthony Kelsick, Chairman and Managing Director of S.L. Horsford & Company Limited, wrote in his Chairman's Report for 2012 that, "The results for 2012 have been very disappointing as the economies of St. Kitts and Nevis continued their decline, which has resulted in the Group recording a significant further decline in their profitability."  The Group had negative retained profits in 2012.
Mr. W. Anthony Kelsick continued: "The economy, already in decline for the past 5 years, continued its decline even further in 2012.  The result of this, along with the effects of VAT and increased electricity costs, caused further contraction on the ability of the residents of St. Kitts and Nevis to spend."
This stands in stark contrast to 2015 when S.L. Horsford & Co. Ltd. saw the highest sales reported in the history of the company as of September 30th, 2015.  S.L. Horsford and Co. Ltd. and its subsidiary companies ("the Group") also performed better in 2015 than they did between 2011 and 2014, as reflected in income before tax, profits retained, shareholders' equity, dividends paid, and total assets.
Furthermore, the vastly improved local economy, a more prosperous consumer class and the release of pent-up consumer demand following the Team Unity Government's removal of the 17 percent value-added tax (VAT) from food, medicines and funeral expenses, effective April 7th, 2015, have boosted sales of consumer durables, such as automobiles, jewelry, and household goods (appliances, electronics, furniture, etc.).
After having expressed his disappointment in 2012, Mr. W. Anthony Kelsicknoted with a hint of pride in his Chairman's Report for 2015 that, "During 2015 extensive renovations were done to both furniture store locations in St. Kitts…No decline in sales of furniture and appliances was experienced in spite of the disruptions caused by these renovation activities."
Similarly, the TDC Group's 2015/2016 Directors' Report published in its 2016 Annual Report noted that, "The year under review was a historic one for the Automotive Divisions.  In December 2015, the highest monthly sales were recorded since the introduction of the Toyota brand in the Federation of St. Kitts and Nevis."
The Ministry of Finance projects that the wholesale and retail sector will experience 4 percent growth in 2016 due to "increased tourism and construction activities, as well as consumer spending."
Construction is going apace, for instance, in the parking lot of the Royal St. Kitts Hotel (the former Jack Tar) in Frigate Bay, where an 11-unit commercial development will provide business tenants with more than 17,000 square feet of indoor space.  The Royal Shopping Plaza will have seven outdoor patios ranging from 500 to 1,000 square feet, allowing for al fresco (outdoor) dining.  The parking lot will also be expanded from the current 35 spaces to about 125, to adequately support the Royal Plaza.
Mr. John Zuliani, President of the Royal St. Kitts Hotel, broke ground on the impressive project on July 12th.  The shopping plaza, which is scheduled to open on November 1st, 2017, will employ approximately 120 construction workers. Mr. Zuliani already employs about 125 workers at the Royal St. Kitts Hotel during the high season (December to April) and about 106 workers during the low season.
As of mid-June 2016, eight out of the 11 units had already been spoken for or pre-leased.  "This is what actually led us to the concept of the Royal Plaza," said Mr. John Zuliani, referring to the overheated demand for commercial real estate space, particularly in the Frigate Bay area.
"We saw that in Frigate Bay there is a serious shortage of commercial availability for people who are interested in opening up small businesses, so we decided to build a plaza to fill that small shortage.  There will be a wide variety of different businesses; high-end jewelry stores, some boutique shopping stores, two beautiful restaurants – one has a concept around gourmet burgers and nice beer," Mr. Zuliani added.
This project and several ongoing ones by other companies point to increased investor confidence and rightly so, given rising income levels.  At his April 20thpress conference, Prime Minister Dr. the Honourable Timothy Harris said that St. Kitts and Nevis recorded solid job growth in 2015 coupled with an upward trend in wages.
Social Security data show that, for 2015, the average number of jobs stood at 24,333 – the largest number of jobs recorded in Social Security's history.  Also, wages in 2015 ($72.27 million per month) represent one of the highest payroll figures on record and reflect a 7% increase over the wages paid in 2014 ($67.57 million per month).
"The comparative analysis with respect to earnings revealed that the earnings landscape has changed," Dr. Harris said in April, adding that, "We saw that the distribution of persons earning in the lower wage categories declined while those earning in the higher wage categories increased."