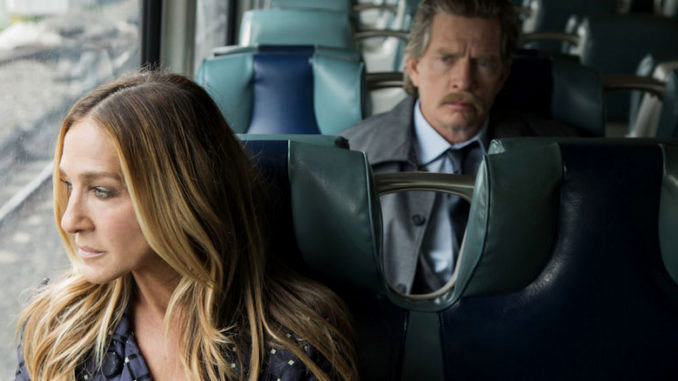 HBO invites viewers to a humor-filled start of the New Year with the return of three original comedy series. The highly anticipated new seasons of CRASHING and DIVORCE premiere on Sunday, January 14th, while the web-turned-TV series HIGH MAINTENANCE returns for its second season on Friday, January 19th.
DIVORCE: Jan. 14 at 23hrs.
In the aftermath of their explosive separation, Frances (Sarah Jessica Parker) and Robert (Thomas Haden Church) are learning to rebuild their lives independently, even as they stay entangled through their kids and mutual friends. Focusing on careers, new relationships and finding ways to be happy again, they learn that pursuing the next chapter will be more complicated than they imagined. This eight-episode second season will also feature Molly Shannon as Diane, Talia Balsam plays Dallas, Dean Winters as Tony, Robert's Divorce attorney, Sterling Jerins plays Lila, Frances and Robert's complicated teenage daughter and Charlie Kilgore is Tom, their 16-year old son.
CRASHING: Jan. 14 at 23:30hrs.
Created by and starring Pete Holmes, CRASHING returns for its eight-episode second season. The series draws on Holmes' own experiences as a comedian, offering a behind-the-scenes look at the world of stand-up comedy.
Feeling lost in the universe, Pete has an enlightening conversation with an atheist sending him into a night of New York debauchery. This marks the beginning of a season in which he starts to question his faith and find his voice. With the help of Ali, a fellow rising comic, Pete explores the alternative comedy scene, a world of comedy nerds, apartment shows and no-drink minimums, where he begins to thrive. These diverse encounters test his enthusiasm and optimism, but also promise to make him a better comedian as he tries to survive the competitive world of New York stand-up. Series veterans featured on season two of CRASHING include Lauren Lapkus as Pete's ex-wife, Jessica, George Basil as Leif, Jessica's former lover, and comics Dave Attell, Dov Davidoff and Artie Lange, playing versions of themselves.
HIGH MAINTENANCE: Jan. 19th (Jan 20th at 00hrs).
From the unexpected and offbeat to the predictable and mundane, HIGH MAINTENANCE provides a glimpse into the daily routines of a diverse group of New Yorkers and how they light things up. Ben Sinclair stars as The Guy, a nameless pot deliveryman whose client base includes an eccentric group of characters with neuroses as diverse as the city. Season two will be comprised of 10 episodes.