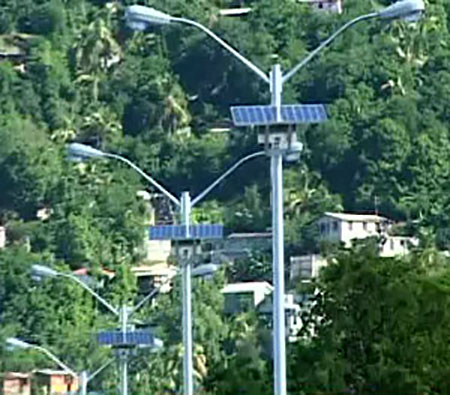 The decade-long friendly alliance between Dominica and the People's Republic of China continues to bear fruits.
Currently, the installation of over 2500 street lights around the island is well underway.
The Honourable Prime Minister, Dr. Roosevelt Skerrit highlighted this in his address to the nation at the Independence Day Parade.
"We have commenced the installation of these solar lights along the E.O Leblanc and Dr. Nicholas Liverpool Highways.  Our plan is to have both of them completely lit within the next 3 to 4 months.  Work will then begin on the lighting of other roadways around the island," Prime Minister Skerrit informed.
The nation's leader articulated that as a small, open and vulnerable economy, Dominica has been relying heavily on the assistance of friendly, international partners in responding to the challenges the island faced after Tropical Storm Erika.
He reiterated the island's appreciation for the commitment of the People's Republic of China in underwriting the cost of the construction of the E.O. Leblanc Highway.
"A group of engineers from China is currently on island carrying out final project design investigation work along the West Coast.  We will sign implementation agreement and economic and technical agreement with the government of China later this month to facilitate the project.  We thank the government of the People's Republic of China for their continued solidarity and tangible expression of support to our country," he said.
The People's Republic of China established diplomatic relations with Dominica in 2004.