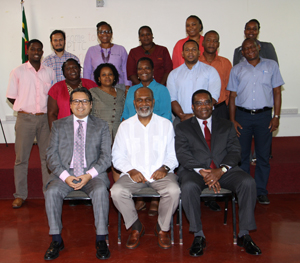 A team from the Pan American Health Organization (PAHO), the World Bank and the Inter-American Development Bank is impressed with Dominica's response to the global Zika emergency.
The team visiting for a week is here to conduct a Rapid Needs and Cost Assessment of Dominica's healthcare systems as it relates to managing Zika.
On Monday, July 18th, staff of the Ministries of Health and Finance met with the team for tabletop exercises as part of the assessment.
World Bank Senior Health Specialist, Dr. Fernando Lavandenz, commended Dominica on its ability to respond satisfactorily to Chikungunya, Dengue and Zika in emergency situations.
"The urgency is solved or in the process of being solved however we notice that in the long-term, sustainability is needed. Immediately, we can say that Dominica has responded very well to the emergency but in the long term there is a challenge and maybe Dominica will need some support."
The World Bank specialist identified human resource planning and the capacity of health systems to respond to epidemics mainly in terms of laboratories, intensive care units, neurologists, epidemiologists and entomologist as challenging areas.
He also identified the need for cost and needs assessments in varied areas.
Dr. Lavandenz shared that PAHO is collaborating with the World Bank to provide technical and financial support to aid countries in managing these viruses.
"Dominica should be in a position to improve its capability to clearly define objectives and targets for the next four to five years."
Meanwhile PAHO Advisor of the Hospital & Integrated Health Care Delivery Services Unit, Dr. Reynoldo Holder revealed that PAHO and the World Bank are working collaboratively in different countries to assess their capacity to respond to epidemics such as Zika, Dengue and Chikungunya.
"In that process, we visit the country and work with the technical teams at the highest levels of health, finance and others to identify need for improvement in the capacity of health systems overall and health services in particular to better respond to these emergencies which seem to be coming one after the other on a more frequent basis.
"We hope that the outcome would also be joint projects [with the partners] that will allow us to assist countries like Dominica to strengthen their capacities to respond to these emergencies in the immediate, mid and long term and to have stronger systems which are more resilient."
Dr. Holder confirmed that an assessment was finalized after over eight hours of discussion with the technical teams from the Ministries of Health and Finance.
On Tuesday, July 19th, the PAHO and World Bank officials met with more local officials to share the results of a technical staff evaluation and to discuss the way forward.
"I've consistently seen the move forward to strengthen health services and address the needs of the people of Dominica," Dr. Holder said. "I think the Ministry of Health has consistently gained strength and capacity and is always looking for ways of improving. That's a good thing for Dominica because it means that your technical people are always looking out for the health and wellbeing in this country."