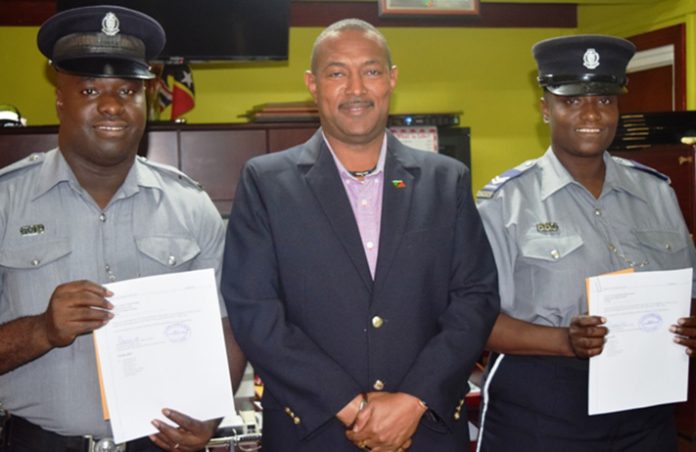 Basseterre, St. Kitts, 

June 17, 2016

 (RSCNPF):  History was probably made this morning (June 17) during a promotion ceremony at Police Headquarters when siblings Acting Sergeant Paula Hodge Jacobs and her younger brother Acting Corporal Valon Hodge of St. Pauls were promoted to their current rank.
No one at the Police promotion ceremony could bring to memory a past ceremony in which two siblings were promoted.
The ceremony at Police Headquarters recognized fourteen (14) officers who were being confirmed or promoted to the ranks of Sergeant, Acting Sergeant and Acting Corporal.
"It really feels great to be selected for promotion", said Acting Corporal Valon Hodge, "and even more special knowing that Paula was also selected.  Looking at her in the ceremony was a sense of pride, knowing that here we are together climbing the ladder in our chosen field."  He added,  "telling our family that we were both selected was an overwhelming and memorable experience."
Both officers are past students of  the St. Pauls Primary School and the Charles E. Mills Secondary School (Sandy Point High School).
(Press release courtesy of the Royal St. Christopher and Nevis Police Force)