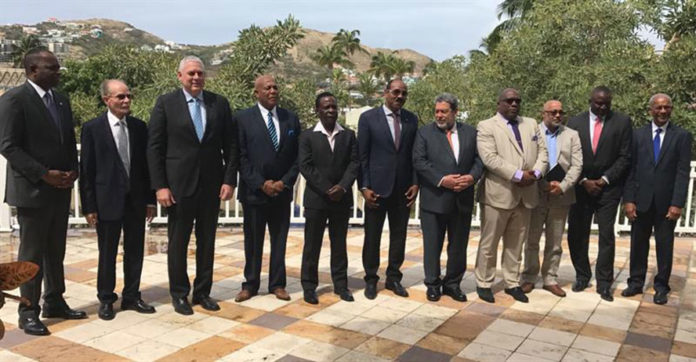 Prime Minister Hon. Allen M. Chastanet, on Friday, called for the Organization of Eastern Caribbean States (OECS) to tackle the problems of the region head-on.
Speaking during the 64th meeting of the OECS Authority, the Prime Minister stressed the importance of quality education, healthcare, and a sense of security.
"The state of our own economies is depriving citizens of the lifestyle and the services they deserve. Are we satisfied that all the citizens of the OECS enjoy a world class education?  Are we satisfied that they all have access to proper healthcare? Are we satisfied that they all can live in safety? Are we satisfied that they have every opportunity for economic prosperity?" he asked.
Mr. Chastanet went on to speak of rising debt and the cost of interest, that has prevented the region's investments in education, infrastructure, healthcare, and crime prevention.
"We are running unsustainable governments," he said. "We talk about economic growth, but since the recession many of our countries have struggled with consistent economic growth [which] makes it much more difficult to do some of the things we want to do.
"From a Saint Lucian perspective, when I come to these meetings I come with the expectation that the OECS, through functional cooperation, can help to alleviate some of those problems. As small states, the percentage of monies that we are paying towards salaries and towards the bureaucracy of our own governments suggest that we have to have functional cooperation. Why have we not had it? Can we continue to have our own embassies all over the world? While I appreciate and respect the need to have our own individuality maybe through the ambassador, can't we have functional cooperation within the office, where the research and technical officers are on a shared basis?"
He also suggested collaborating to reduce crime, with a singular forensic laboratory and a shared database; and called for more cooperation in healthcare with the suggestion of a singular health insurance program; as well as in education, to encourage innovation and entrepreneurship.
Climate change, he said, also "demands that the SIDS (Small Island Developing States) form a unified force in this world."
The 64th meeting of the OECS Authority was held on March 3, in Saint Kitts.