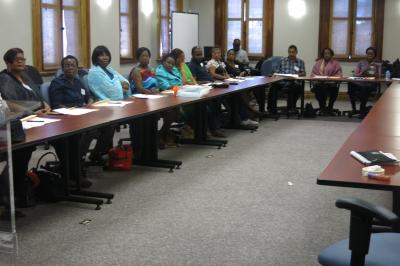 As the new financial year 2016/2017 begins, Regional Coordinators, Facilitators and Tutors involved in the Retirees Adolescent Partnership Programme (RAPP) recently received training in Effective Mentorship, Building Capacity and Communication on issues affecting young persons in our society today.
The session also provided an opportunity for Facilitators and Tutors to share some lessons learnt on the past year and planned activities for this year's Programme.
The training which took place on October 22, formed part of the institutional strengthening culture which the Ministry of Social Development and Family Services intends to establish and maintain at all five RAPP Centres, to ensure that the content, structure and effectiveness of the Programme is maintained and continues to be effective. The Centres represented were Belmont, Couva, La Horquetta, Valencia and Laventille
The one-day session included a motivational segment as well as role play presentations by young persons who dramatized scenarios of real life situations and the participants were asked to devise practical solutions to address these.
National Coordinator for RAPP, Brenda Mc Cree, indicated that the session is an annual exercise which allows all Stakeholders of the Programme to come together to share experiences and solutions, as well as to gauge what plans were in train for the upcoming year. She stressed that the RAPP Programme focuses on nurturing our youth and in this regard, it was important that the facilitators, tutors and community groups that assist with executing the programme were well-equipped to do so.
The Retirees Adolescent Partnership Programme is a community-oriented programme implemented by the Ministry of Social Development and Family Services, which seeks to utilize the skills and experience of retired professionals to provide assistance, building values and life skills as well as supervision to youths between 11 – 16 years of age.  Its vision is to create a nurturing and disciplined environment, where children can learn and develop in positive, life-changing ways.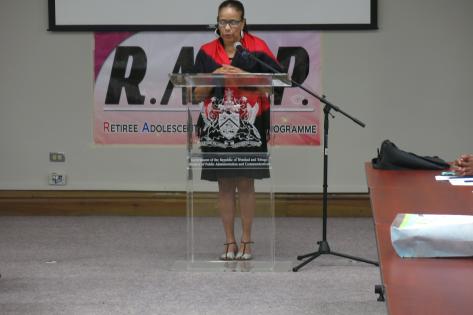 National Coordinator for Retiree Adolescent Partnership Programme, Ms Brenda McCree, addresses tutors during the training exercise.