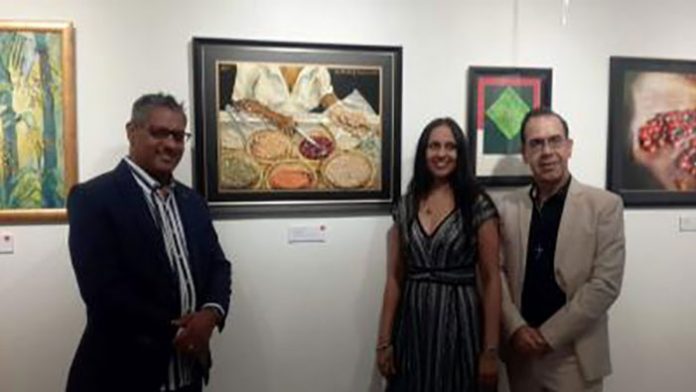 We need to preserve the seeds that are vital to our culinary experience here in Trinidad and Tobago' said Senator Clarence Rambharat at the Art Society of Trinidad and Tobago's November Members' Exhibition, titled 'Seeds for a Sustainable Future'.
Speaking at the Opening Night on November 5, the Minister of Agriculture, Land and Fisheries' Statement focused on 'the importance of recording, sharing and opening up the world that we enjoy here'.  Assuring those present thatthe Ministry is committed to preserving our own and has been doing this through ensuring a reliable supply of corn, pepper and sorrel through its current seed production programme.  The Minister reinforced the need to'preserve, restore, re-create, re-plant.
Part of the evening's proceedings included the presentation of prizes to this year's winners by Mr. Clayton De Freitas, President of the Art Society.  The winners were:
Pat Farrell-Frederick's My Red Bean Tree – 1st Place Overall
Antonio Figuero's Sunday Morning – 2nd Place Overall
Michiel Van Hout's Hot Doubles  – 3rd Place Overall
Nyla Singh's 'Jumbie Flow' – 1st Place Photography
Waheeda Ramnath's To Sow like our Forefathers and Mothers – Special Prize for Best Emerging Artist
The Minister also referenced his visit earlier in the day to the 5th Annual Bioblitz & Nature Fair, at the Botanic Gardens, along with His Excellency Anthony Thomas Aquinas Carmona, President of the Republic of Trinidad and Tobago; where, as one of twenty environmental stakeholders the Ministry of Agriculture, Land and Fisheries showcased a wide array of fruits and vegetables;  the Blitz also showcased insects, animals and reptiles indigenous to Trinidad and Tobago.  The Fair seeks to highlight the work being done to help the environment; spread knowledge about biodiversity and help local communities to do more to protect Trinidad and Tobago's natural habitats.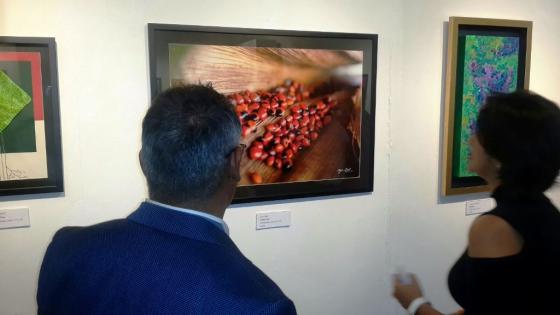 Senator the Honourable Clarence Rambharat, Minister of Agriculture, Land and Fisheries admires a piece of art at the Exhibition