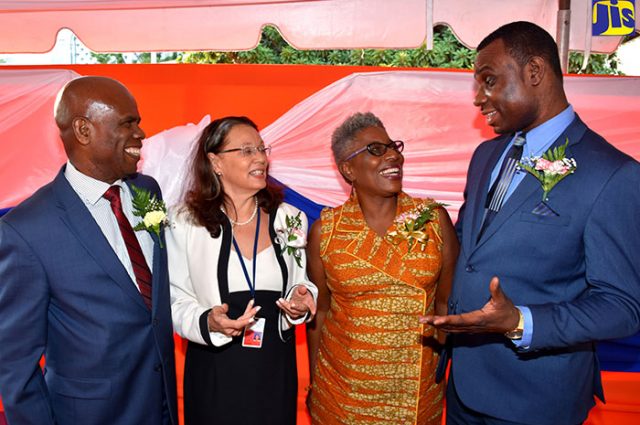 Permanent Secretary in the Ministry of Education, Youth and Information, Dean-Roy Bernard, has commended the University of the West Indies (UWI) on 70 years of outstanding achievement.
"I doubt there are any who would even attempt to contest the wide-ranging, social, cultural, political and economic impact of UWI on the development of our country and, by extension, our region," he said, noting that the institution has produced 22 graduates who became Prime Ministers.
Mr. Bernard was speaking at the launch of a photo exhibition to mark the 70-year milestone and the 10th anniversary of the UWI Open Campus, Jamaica Eastern Region, at Camp Road, Kingston, on April 9.
The regional institution, which began in 1948 as a college of the University of London, achieved full university status in 1962.
Mr. Bernard said the university, over the seven decades, has grown from enrolling and educating approximately two per cent of the nation's population at the tertiary level to about 21 per cent in 2018.
"Years ago, certainly when I attended, we used to say 'we are among the two per cent'. Now we are looking at 21 per cent, and that's a step in the right direction," he noted.
He said UWI has greatly assisted with the transformation of Jamaica's economy and growth by educating and producing outstanding graduates who have helped to build the country. For this, he said, the Ministry will continue to stand by the university.
"Education is the best vehicle to drive social mobility and to achieve prosperity for all… . The Ministry is committed to working closely with the UWI and all higher-level educational institutions to ensure that Jamaica becomes the place of choice to live, work, do business and raise families," Mr. Bernard said.
He noted that the photo exhibition, entitled 'The UWI – Then and Now… Riding on the Shoulders of Giants' holds historical value, which Jamaicans should be proud to visit and support.
"We are proud and elated to join with you in this photo exhibition… . The photographs capture many thoughts, scenes, activities… (and) in fact, the adage still remains that a picture certainly accounts for more than a thousand words," Mr. Bernard said.
The 'The UWI – Then and Now… Riding on the Shoulders of Giants Photo Exhibition' showcases the development of the university and the Open Campus over the years.
It captures several notable scenes and personalities, including professors in classrooms, research projects, administrative staff, and researchers.
UWI began its year-long 70th anniversary celebrations in January.