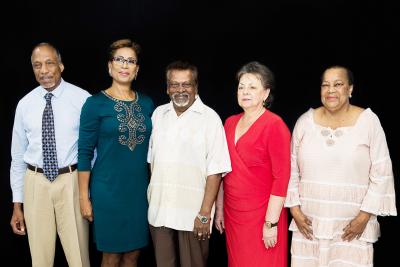 On June 10, the Culture Division of the Ministry of Community Development, Culture and the Arts launched the fifth installment of the Mentoring by the Masters Programme at the VIP Lounge, Queen's Park Savannah, Port of Spain. This flagship programme, which boasts of many success stories in the creative and cultural sectors, is one of the key initiatives of the Ministry.  It facilitates the transfer of knowledge from accomplished artists and cultural workers to emerging practitioners in their respective fields.  It is also an opportunity to celebrate the achievements of these mentors for their contribution to the artistic and cultural community of Trinidad and Tobago.
The 2017 mentors for this year's programme are Janice Patricia McLeod – Orisa Traditions; Lionel Jagessar – Fancy Indian Mas; Rosalind Gabriel – Children's Mas; Sharon Pitt – Professional Development in Broadcasting and Simeon Sandiford – aspects of Music Production and the Business of Music.
Addressing the audience at the launch, Permanent Secretary Angela Edwards reiterated the commitment of the Ministry in investing in the local cultural resources such as the tangible and intangible heritage in the communities and the culture and creative industries. She said the programme was critical to the ministry's mission to build resilient culturally rich communities and sustainable creative industries. She further affirmed that the future of Trinidad and Tobago is in excellent hands because the programme focuses on the culture, history and the legacy of what makes us unique as Trinidadians and Tobagonians.
Director of the Culture Division, Ingrid Ryan-Ruben stated that the focus of this year's programme was all-encompassing. Emphasis will be placed on Carnival Arts because there were a lot of masters but few mentees.  In addressing the mentees she told them that they had the opportunity to carry their art to a new level.   She also implored them to learn from these mentors but also use their creativity and inject new life into the art forms because these are pivotal to the county's heritage. Furthermore, Trinidad and Tobago will be richer for it.
One of the 2016 mentors, Rudylynn De Four-Roberts who mentored in heritage architecture preservation expounded the many areas in which the programme was part of nation building.  Moreover, she said it fostered an appreciation for culture and an appreciation for the arts. She also encouraged mentees to go the extra mile.
During the event, Culture Support Specialist, Elize Rostant paid tribute to two former mentors and national cultural icons, the late Narcenio 'Senor' Gomez and Stephen Derek.  Tribute to the late Stephen Derek, master craftsman extraordinaire and mentor was done through a power point presentation in which tributes were done by Dr. Nyan Gadsby-Dolly, Minister of Community Development, Culture and the Arts, other ministry officials and mentors of the 2016 edition of the programme. Special acknowledgement was also given to the Mentors from 2013, 2014, 2015 and 2016 along with the five mentors for 2017.