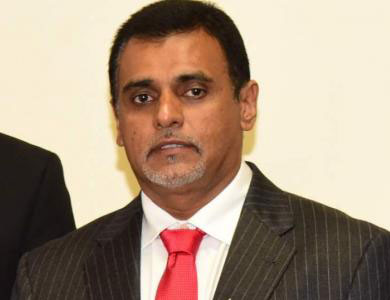 Senator the Honourable Rohan Sinanan, Minister or Works and Transport has assured the public that there would be no disruption to the cargo service to Tobago.
Minister Sinanan gave the assurance during his April 22 tour of the Trinity Transporter and the Atlantic Provider, the barge and ferry vessel which will provide short-term transportation of cargo to Tobago.
"What we have seen today is the first phase, the short-term plan to ensure that there is no hiccup, no disturbance in the cargo shipment to Tobago. Once we got the letter from the provider that they were going to pull the vessel we immediately went into action and announced three plans.
One was the short-term plan to ensure that the shipment of cargo was not disrupted. We saw [today] two vessels that were contracted for one month with the option to renew for a further month or two. This is to ensure that the cargo again is not disrupted. Monday the tender for the medium term- which is the vessel to be leased for three years will be closed and opened by Tuesday. Then we have the long-term plan which is the purchase of the new vessel," he said.
Minister Sinanan also underscored that the two providers (the barge and the ferry) will be replaced by one main vessel in the coming months.
"This is just a short-term gap and we are expecting that within two months we would have one vessel that should be able to handle all the cargo."
The first sailing of the Trinity Transporter and the Atlantic Provider was scheduled for Sunday April 23, and according to Minister Sinanan, will sail on a day which is not customary to ensure service is not disrupted.
"Normally the last sailing would've been on a Saturday and on Sunday they normally would not have a sailing. What we assured them is that there would be no disruption, so the vessels are here and they would be ready to go tomorrow once there is cargo to go," he said.