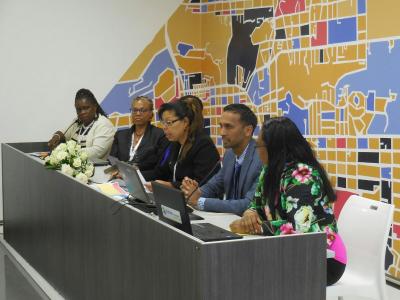 Small Island Developing States (SIDS) like Trinidad and Tobago experience unique challenges in defining and implementing policies to harness the benefits and respond to the new issues that deal with urbanisation.
It is for this reason that the Government of Trinidad and Tobago approved the participation of four public officers at the United Nations Conference on Housing and Sustainable Urban Development – UN Habitat III, taking place in Quito Ecuador.
Spanning five days (October 17-21), this Conference included a Networking Session titled "Adapting the New Urban Agenda to Small Island Developing States" which was hosted and chaired by Ms. Simone Thorne-Mora, Permanent Secretary, Ministry of Housing and Urban Development with support from Ms. Marie Hinds, Director (Ag.), Town and Country Planning Division, Ministry of Planning and Development. This special session was attended by over thirty persons from ten countries inclusive of Caribbean and international organizations and featured presentations from representatives from Trinidad and Tobago, Barbados, Jamaica, Habitat for Humanity, UNECLAC and Caribbean Network of Urban Land Managers; all of whom recognize that while there are specific issues relative to each country, there are certain commonalities which we all experience and which will form the basis of an Urban Agenda strategy for Caribbean SIDS.
Permanent Secretary Thorne-Mora told attendees, "Caribbean SIDS can sometimes be voiceless in the international landscape. Given the magnitude of this UN Habitat III Conference – 45,000 participants at last count – our concern was that this unfortunate anomaly will continue at this event and we will have little or no contribution to the New Urban Agenda. However, we can change that; therefore, let's take advantage of this opportunity to engage in meaningful dialogue so that our resolutions and commitments will demand the attention of the international decision-makers. We can do it!"
This event therefore provided a forum to allow for the development of a common articulation from the Caribbean sub region on the New Urban Agenda as well as provide a platform for continuing the dialogue within the Caribbean. This dialogue will continue until a network is built among housing and land use practitioners, policy makers and civil society with the aim of creating sustainable communities and thereby creating opportunities for all.
This session was moderated by Dr. Robin Rajack, Lead Housing and Urban Development Specialist, Inter-American Development Bank and included presentation by Ms. Marie Hinds, Director (Ag.), Town and Country Planning Division.
Ms. Nina Antoine, Senior Economist, Ministry of Housing and Urban Development and Sasha Darbeau, Head, Legal and Manager, Tenure Regularisation, Land Settlement Agency (LSA) were the other members of the Trinidad and Tobago contingent at UN Habitat III. The Government absorbed the costs for one attendee with Habitat for Humanity Trinidad and Tobago covering the costs for the other three representatives from Trinidad and Tobago.